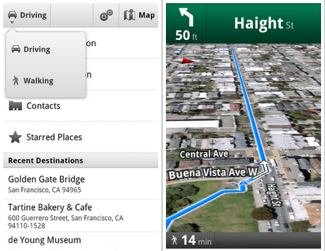 Google is making big moves lately, first with priority inbox and Instant search, then some new updates to its Android Voice app and the Google Earth website, and now Google Maps on Android is getting updated with a brand-new feature:
walking navigation
!
Find out what's coming with the latest update (and why you should care) after the jump.
Not just walking directions, the walking navigation feature gives you turn-by-turn directions as you find your way from point A to B on foot. Just choose "walking" from your Navigation icon, and your Android device will use the internal GPS to show you how to get there every step of the way. But don't worry about missing a turn if you're in a loud and bustling city — walking navigation will allow your Android device to vibrate every time you need to make a turn, so you never miss a voice command. Plus, the map will rotate with you as you change directions, along with using satellite by default, so you'll get (and keep) your bearings in a new place.
The Google Maps 4.5 update is available now for free in the Android Market!